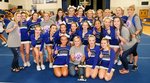 Photo by Onfirephoto.com
The RHS competition cheerleading squad placed first this past weekend in the AAA division at the first annual Tiger Cheer Classic. This is the second competition of the season for the Lady Tigers and the first win. The Tigers improved their score by over 20 points from week one with a total of 229 out of 300. Coach Rogers said she is most proud of the team for having zero deductions this week. "We have a tough region this year, and every point will count. Not giving away points in deductions could mean the difference in qualifying for state or staying home," said Rogers.
This year's competition squad is comprised of twenty-two girls, four of whom are seniors. Lyndsey Smith, a senior, says, "I want the younger girls to know what it's like to make it to state and experience that weekend. It was a huge accomplishment last year, and a great way to end the season. I want our whole team to experience what it feels like to hit two clean routines in Columbus because it was amazing." This year's squad is extremely talented, and we are looking forward to more wins from the Lady Tigers.
You can watch the squad compete on Saturday at Heritage High School The division will begin at 12:30 p.m.
GO TIGERS!