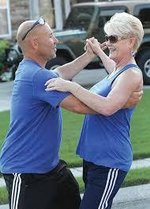 Coach White practicing his dance moves
Our very own Houston White is participating in the 2017 Dare to Dance charity event to support the Kidney Foundation of the Greater Chattanooga Area. Coach White will be lacing up his dancing shoes Saturday, September 23 to compete for this year's title, as well as to raise as much money as possible for the charity. This is Coach White's second year teaching at Ringgold, where he also coaches football and track. Last Friday night, fans from both RHS and HHS donated money to the Kidney Foundation at a table set up at the football game.
If you'd like to vote for Coach White, please visit the Kidney Foundation and donate. Sadly, the event is sold out, but hopefully we will have a follow-up interview and video of Coach White's performance!
Good Luck, Coach White!